2iXR is a gamification tool with augmented reality that allows brands to connect with new generations through gymkhanas or gamified guides
What kind of AR experience do you need?
Do you need an experience for a tourist area, a museum, a village fair, an event or a commercial fair?
Gamified route with AR
An augmented reality scavenger huntallows visitors to improve their experience in tourist areas, events, fairs, museums, … Users have fun:
discovering and interacting with elements in augmented reality,
fulfilling missions (finding clues, solving riddles, completing a mini-game …)
acquiring knowledge of the product, service or place
winning prizes.
Are you a brand, a retailer, a shopping center or a merchants association?
Promotional campaigns with AR
AR promotional campaigns allow brands to:
attract consumers to brick and mortar shops

,

present a

new product

,

offer

samples or tastings

,

offer

discounts and prizes

,

collect

opinions

,

promote sales

.
1/ Log in 2iXR Studio y create your campaign
2iXR Studio is 2iXR editor. It allows:
define the different points of interest where the user has to go,

define the missions (questionnaires, opinions…)

define the prizes (tasting, sample, discounts, …)

insert the augmented reality 3D elements.
We can also create your campaign if you prefer or if you need an advanced experience, for example with augmented reality mini-games. 
2/ Show your treasure hunt in 2iXR app or generate your custom app
Your customers can access your campaigns through the app generated from 2iXR Studio. We offer you the possibility of:
customize the app with your logo and the corporate image you want,

create the app for both iOS and Android.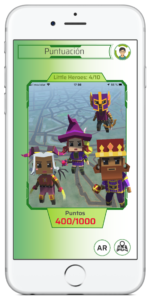 2iXR App with original UI
3/ Connect with your target 
The user interacts with his smartphone and access through a map or placeholders to different geolocated elements. These Augmented Reality elements allow him to:
unlock missions (clues, AR games, quizzes, ratings, opinions),
win gifts, prizes or discounts,
take photos of the AR elements and share them in the social networks.
4/ Track your campaigns and analyze your KPIs 
Collect data:
average time 

spent at your experience

,

number of participants who have passed through each point of interest,
number of interactions per each augmented reality element,
number of opinions collected,
average rating per point of interest,
number of questionnaires completed,

number of 

prizes collected,

…
¿Do you need help to create the content?
3D models
We can create your 3D models optimizing them for your AR experience.
Advanced AR experience
We can develop augmented reality experiences with additional features adapted to your requirements.